Entertainment 2016
AT THE GAZEBO:
       10 a.m. – 1:30 p.m.
Gold Top C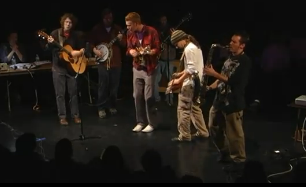 ounty Ramblers rock an acoustic, bluegrass form of music, playing alongside such acts as the Seldom Scene, Nuthin' Fancy, Ben, Cooter, Jones, Dr. Ralph Stanley, and Larry and Jenny Keel.  2014 brought them the 4th place honors at the Telluride Bluegrass Festival.  They mix all kinds of music together from all musical era's and genres, and then bluegrass it up a little.
2 pm – 5:30 pm.
B
ack To Zero (BTZ) is an exciting versatile party band based out of Arlington, Virginia. Founded in 1999, BTZ has become famous for amazing musicianship and a high energy stage show. Back To Zero showcases a powerhouse of talent and energy that will keep crowds dancing all night long. Back To Zero was nominated "best band in the Washington, DC Area" in the WUSA 9 A List competition
ON THE COURTHOUSE LAWN:

 The Church Street Project
Sponsored by McGreevy Insurance Agency
Noon – 2 pm
The Church Street Project began in 2005 simply as that, a project. No rules, no set members just a practice spot in a former church and theatre on Church Street. While many musicians have played within the Project, its current group of Artists consist of John Yeabower -drums, Amy Lelito-vocals and keyboards, Ian Moon-vocals and guitar, and Shae Parker-vocals and bass.
 
CHESTER STREET
     2 – 4 p.m.
Coming all the way from the rolling sand dunes of Tatooine is a high energy cover band that brings the rock!  Featuring songs of Faith No More, Red Hot Chili Peppers, 311, Sublime, and many more.
Sponsored by